Mountain Camp Woodside is pleased to offer the following special activities:
Swimming Lessons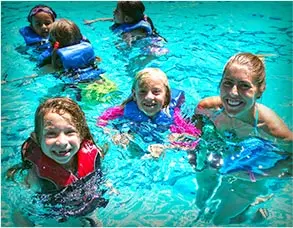 Sign your camper up for semi-private swimming lessons. Lessons are individually tailored to meet the needs of each child. These lessons are more geared toward new or beginner swimmers and are 25 minutes long. Swimming lessons are taught daily after camp is over. Space is limited so sign-up early if you are interested.
Swimming lessons are offered for an additional $275/week.  Cub Swimming Lessons are $325/week.
Swimming lessons take place at the end of the camp day and start around 4:20 or 4:45pm. For Cub Campers, swim lessons happen at the end of their day, starting at 3:25 or 3:50pm.
All cancellations must be received two (2) weeks prior to your camper's swimming lesson in order to receive a refund. No refunds for swimming lesson cancellations with less than two weeks' notice.
TGIS – "SATURDAY" OVERNIGHT (DAY CAMP ONLY)
(Unfortunately, with the school dorms under construction, we are not able to offer our TGIS program this summer.)
Every weekend, we give our Day Campers an opportunity to try our Resident Camp. The "TGIS" drop-off will be on Saturday at 4pm. From there, your camper will get to participate in a camp activity, have dinner in the cafeteria, partake in a special evening activity, have a campfire with songs and s'mores and then have an overnight in one of our dorms. TGIS campers eat breakfast at camp the next morning and pick-up starts at 10:15am. TGIS is a great way for Day Campers to experience the fun of Resident Camp! Cubs entering 1st grade are eligible for TGIS.
CIT – Counselor in Training Program


Mountain Camp Woodside offers a Counselor in Training (CIT) program that is available for both Day and Overnight campers entering 9th and 10th grade. The program emphasizes leadership skills, creativity, team building and most importantly fun! By acting as role models for younger campers and assisting in leading different aspects of the camp program, it is our goal that the CITs walk away having learned new leadership skills and have formed lasting memories with our youngest campers.
CITs will have regular meetings and will plan and lead campers in a variety of camp activities that they have chosen. They will also create their own activity for Wacky Wednesday.
CITs will be given shirts to wear so other campers and staff members can identify them as CITs.
There is a short application that must be completed by the applicant in order to be considered for this program. After you have enrolled your camper for the CIT program you will receive an email directing you to the CIT application within your Mountain Camp Woodside account. When choosing CIT candidates, past performance, the application and counselor references will be taken into account.
If you would like more information about the Counselor in Training program, please do not hesitate to contact our office.
Weekly Dress-Up Themes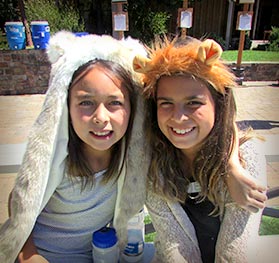 Each Wednesday, we do a special dress-up or "theme" day for our camp. It is just for fun and participation is optional. The weekly theme schedule for this year is as follows:
Session 1A – Mis-Match Day. You CAN wear stripes and plaid.
Session 1B– Favorite Disney Character Day including Star Wars
Session 2A– Favorite Animal Day
Session 2B– Red, White and Blue Day
Session 3A– Favorite Superhero or Villain Day
Session 3B– Favorite Sport or Sports Team Day
Session 4A– Camper Group Color Day – The specific color will be determined by the groups at camp this week.
Session 4B– Favorite Book Character Day
Horseback Riding Lessons
Unfortunately, Mountain Camp Woodside is no longer offering horseback riding.
If you are interested in lessons, please visit springdown.com for additional information on the Spring Down Equestrian Center.
Ben had a great time! - Carey D.