About Mountain Camp Woodside
Mountain Camp Woodside is a co-ed summer camp nestled in the heart of beautiful Portola Valley, California on the 63-acre campus of Woodside Priory School. The camp offers a sleep-away, resident camp program for grades 2nd – 10th, and day camp program, for grades K – 10th.
Mountain Camp Woodside's minimal technology and non-competitive program is designed to build confidence, grow independence, encourage friendships, healthy lifestyle choices and develop 21st century skills. In today's hectic and high-tech world, we believe a back-to-basics approach to outdoor recreation and plain ol' fashion "fun" is crucial to building a child's positive self-image. Therefore, we offer activities such as mountain biking, arts & crafts, soccer, swimming, archery and outdoor survival.
We believe a quality summer camp experience provides education, challenge, achievement and acceptance. Our unique atmosphere allows children to learn in a fun and safe environment that encourages independence while nurturing lasting friendships. Whether it's your campers first time away from home, or performing campfire songs and skits, the camp experience can have a profound impact on a child's development.
Mountain Camp Woodside is dedicated to meeting the highest standards in the camp industry. We're accredited by the American Camp Association and are a member of the Western Association of Independent Camps. Our programs inspire campers to try new activities, build independence, make friends and take home memories that will last a lifetime.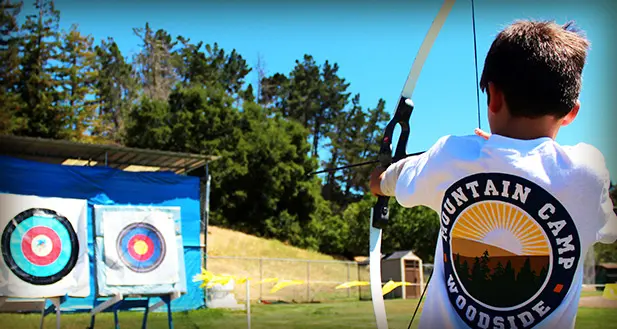 Our Program
The program at Mountain Camp Woodside is developed and structured around the following three core areas:
Building Community
We promote cooperation and teamwork, teaching that communities are formed on respect, trust, and acceptance.
Healthy Lifestyle
A balance of new experiences, outdoor exercise, creative arts, and sense of independence exists in a safe environment surrounded by supportive role models.
Positive Self-Image
Activities at Mountain Camp Woodside are designed to build confidence by rewarding effort and enthusiasm over proficiency. Your campers' sense of achievement will be developed through setting and pursuing their own, individual goals.
Megan has spent many summers in various camps and she absolutely loved every minute of Mountain camp! After just the first day she came home and said , "I want to go another week!" - Debbie O.