Welcome to Mountain Camp Woodside! Whether this is your first overnight camp experience or you have been going to other camps for years, as a first-time camper, we know you have lots of questions about what to expect this summer. After you register, we'll send out a detailed Parent Information Pack with everything you need to know. Our year-round office staff are available to answer any questions or concerns, so please don't hesitate to call or write.
First Time Camp Orientation
Before the summer, we'll host an online orientation for all first time campers. We will answer all your questions about preparing for camp, signing up for activities, camp food, opening day and much more. But, don't worry if you miss the orientation, please click here for our New Camp Orientation video for this summer.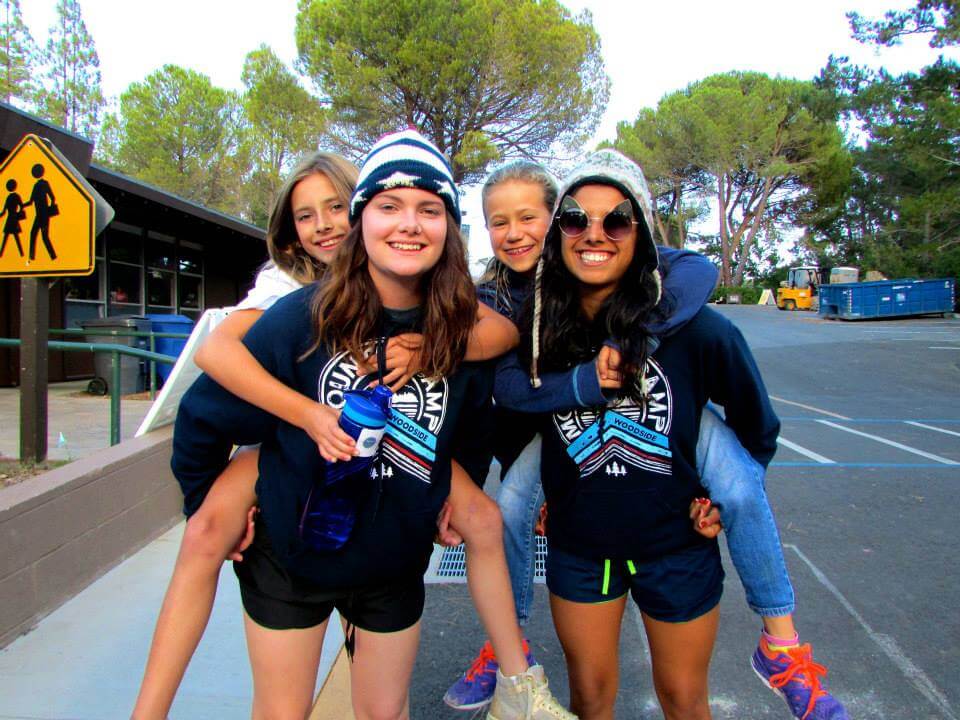 Preparing For Camp
Packing for camp is the beginning of each camper's independent camp experience. Parents receive a detailed Packing List with everything you'll need to bring. Remember nights at camp can be chilly so bring some warm layers!
An extreme outdoor sleeping bag is not necessary since the campers will be sleeping indoors and a mattress will be provided. We recommend a sleeping bag, pillow and fitted sheet but you are more than welcome to bring comforters, blankets and sheets if you wish.
What if I don't know anyone else at camp?
No problem! Mountain Camp Woodside is a great place to make new friends and many campers come not knowing anyone else. Our counselors are especially good at making sure all the campers feel included and a part of the group. Even if you come to camp with friends, you'll be making lots of new ones while you're here!
What is Resident Camp Check-In like?
It's a blast! Check In is Sunday from 3:00pm – 3:30pm and you and your camper will be serenaded by our counselors welcoming you all to camp. You'll be able to meet the directors, set up your camp store account, do a quick medication drop-off with our camp nurses. Your camper will then head to their dorm room to pick out their bunk, take a camp tour and meet their dorm group! We then have dinner and wrap up the day at our Opening Campfire!
How do activity sign ups work?
One of the most important aspects to the program at Mountain Camp Woodside is that campers get to design their own schedule and sign up for the activities that interest them the most.
On Monday morning, all campers will chose their camp activities for the week. They will have four Free Choice camp activities period per day and will have between five to seven different choices for each period. If campers don't like an activity, they can change into another. We want campers to try lots of new things at camp!
The schedule is designed to give campers a lot of variety and opportunity to explore new interests as well as the freedom to repeat activities they liked the most.
What about homesickness?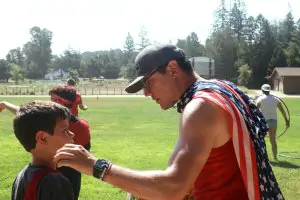 Homesickness is very common at camp and we take pride in our ability to help campers gain independence and learn how to overcome homesickness. Keeping campers active and engaged is important and our counselors and directors are experienced with working through camper homesickness when it occurs.
How do parents and campers communicate?
Campers unplug from technology at Mountain Camp Woodside so that means no cell phones. But we do offer one-way email for parents to be able to write letters as often as they like. Emails are printed off and given to the campers during mail call after dinner. Parents are welcome to send as many letters as they wish and we encourage our campers to send letters and postcards home as well. We will scan and email them home so you can get them quickly.
Just a heads up, we encourage a lot of writing to help our campers conquer and overcome homesickness. Sometimes those first letters coming home can be a little jarring as our campers learn to express and articulate their emotions. This is part of the process and we want them to get out everything they are experiencing on paper. It helps them understand and label the complex set of emotions that make up homesickness especially if this is their first time away from home.
We want Mountain Camp Woodside to feel like a second home for our campers and you and your camper are now apart of the Mountain Camp Woodside Family. We can't wait to see you this summer!
Counselors at Mountain Camp Woodside helped my shy son feel welcomed and supported as a first-time camper. He said it was his favorite camp and already is asking when he can go back. - Lisa T.