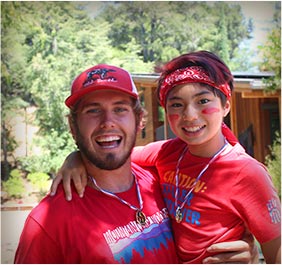 Mountain Camp Woodside, formerly "Camp Unique," was founded in 1976 by Bob Cavalli, the Athletic Director for the Town School for Boys in San Francisco. Since 1993, the camp has operated on the beautiful 63-acre campus of the Woodside Priory School in Portola Valley, CA, near Palo Alto.
In 2006, Camp Unique partnered with Mountain Camp, a resident camp with a location in Lake Tahoe, to jointly run the camp. In 2010, Mountain Camp fully took over Bob's interest in the camp and changed the name to "Mountain Camp Woodside" both to bring it fully into the Mountain Camp family and to reflect the long-standing relationship with the Woodside Priory School.
Both Mountain Camp and Mountain Camp Woodside have been accredited by the American Camp Association(ACA) and are active members of the Western Association of Independent Camps (WAIC).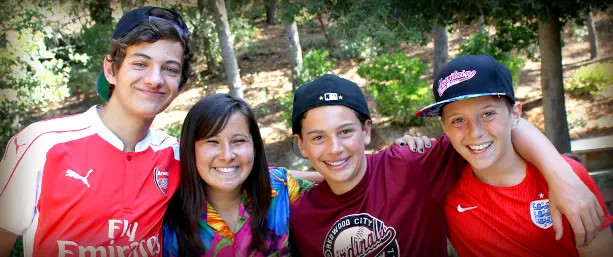 Philosophy
The program at Mountain Camp Woodside is developed and structured around the following three core areas: Building Community, Healthy Lifestyle, and Positive Self-Image.
We create a fun and safe environment that encourages independence while nurturing lasting friendships. Now more than ever, when children are increasingly surrounded by computers, televisions, video games, and smart phones, our goal is to get campers outside, actively creating, playing, making friends and learning lifelong outdoor skills.
Mountain Camp Woodside seeks to illuminate the special and unique character in every camper; we want campers to shine. Ultimately, our goal is to create experiences, friendships and laughter that stay with campers the rest of their lives.
Mountain Camp Woodside is committed to creating an inclusive environment that supports equal participation opportunities for campers and equal employment opportunities for staff members. We enforce a nondiscrimination policy for all persons, regardless of race, color, religion, sex, age, sexual orientation, gender identity or gender expression, marital status, national origin, or disability.
At Mountain Camp Woodside we make every reasonable accommodation to allow campers and staff to participate in the community in the way they feel most comfortable, while respecting individual privacy.
The caring counselors are an integral part of a camper's satisfaction of the camp experience. - Michelle A.